It's been about 18 months since I made the plunge into a vegan diet. Not because I have an emotional attachment to animals, although I do on some level, and not necessarily to help save the planet, which I do think needs all the help it can get, but I did it for health reasons (menopause is no joke) and how it made me feel. That's not to say, even though they all knew the reasons, that my family thought I'd lost it. (you can see how excited Paul is)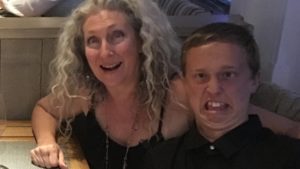 All they could see was a life without bacon or hamburgers, no more steak on the grill or sausage sandwiches, and oh geez...no eggs! When I tried a two week trial vegan diet out for size on the entire family it lasted about ten days before my son came to me in tears. "Mom...(sniff, sniff) do you remember (tears, sniff, sniff) when you used to cook with meat?" True. True story.
So you have to come to grips with the fact that you live with a bunch of carnivores. How does that work if you don't eat animal products and you do all the cooking, grocery shopping, etc.? One could say very carefully...but really it just takes creativity and extra hands when you have to deal with things you don't want to deal with. Like cut up chicken for the gang and not touch it...you designate one of the carnivores.
Meals are planned (most of the time) so everyone can have what they like and I am not driven absolutely mad by cooking like a crazy diner chef. Things like mexican style spicy hamburger alongside a pan of black beans made with the same ingredients minus the obvious. Or Jerk chicken...again substituting beans for the bird stuff but using all the same ingredients in both.
There are times that the whole family eats vegan. Do they always know it? No. Too many things are pretty good replicas so there's no need to spill the beans (so to speak). Once I committed to this I found some great resources with recipes that work for all of us.
Let me share some. Maybe you'll give it a try...
My absolute favorite and go to recipes are from  Isa Chandra Moskowitz
Isa Does It: Amazingly Easy, Wildly Delicious Vegan Recipes for Every Day of the Week
Another go to book, especially if time is tight, is from the Minimalist Baker (they also have a fabulous blog)
Minimalist Baker's Everyday Cooking: 101 Entirely Plant-based, Mostly Gluten-Free, Easy and Delicious Recipes
Again great, easy recipes that pride themselves on being able to be done quick!
Third, but equally as good, is Vegan Richa's Indian Kitchen: Traditional and Creative Recipes for the Home Cook
Now we happen to LOVE Indian cuisine and this gal translates all your favorites into vegan yumminess. I have this on my IPad because I cook from it so often.
There are many more that I've come to love and rely on. Next time let's talk about baking. Sweet stuff...everybody's favorite!
If you try any of these let me know what you think!
Until next time,
Susan